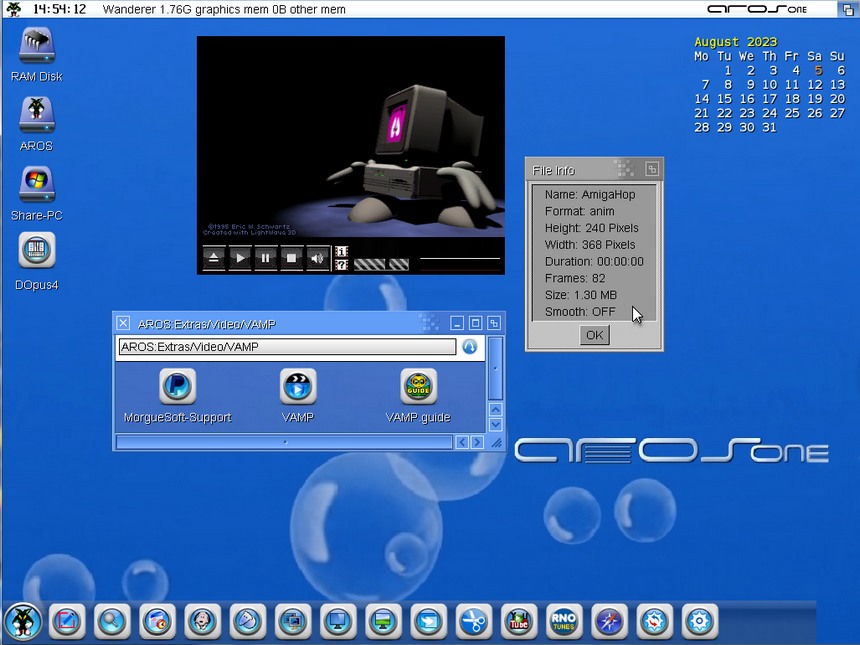 Autori = Templario & Samo79


[b]V.A.M.P. (Virtual Amiga Multimedia Player MultiOS)
:, è un lettore Multimediale Multipiattaforma e Multilingua sviluppato in Hollywood per OS3, OS4, AROS, MOS, WarpOS e Windows. Il Player supporta numerosi formati multimediali, sui sistemi Amiga attraverso PlugIn, Datatypes e Librerie, sui sistemi Windows invece tramite Codec Video.
Il Player oltre a visualizzare i vari formati Video, risulta essere uno dei migliori visualizzatori di animazioni sia per qualità che velocità, V.A.M.P. è anche un Player Audio e un visulizzatore di Immagini.
Tra i vari Skin Disponibili nell'archivio troverete anche gli Skin creati da me eccetto quello nello screenshot ed altri che troverete in AROS One 68k e x86
Formati Supportati:
V.A.M.P. display the next multimedia formats currently:
* Amiga Anim formats: anim, anim5, ham6, ham8, yafa.
* MovieSetter movies format. NOTE: Only with Pluggins.
* Web animation formats: GIF, APNG.
* Show pictures: JPG, PNG, GIF, LBM, BMP, IN NATIVE WAY SVG, JP2(JPEG 2000), TIFF, PCX, WEBP.
* Video formats: CDXL, OGG, AVI, MPEG, MPG, WMV, FLV, MP4, MOV, MKV, WEBM AND 3GP, M4V.
* Music&Sound files: MP3, MOD, 8SVX, 16SV, IFF, WAV, WAVE, RIFF, OGG, FLAC, M4A, WMA, DBM, HVL, AIFF.
V.A.M.P. v3.10 OS3
:
Download
V.A.M.P. v3.10 AROS x86
:
Download
V.A.M.P. v3.10 OS4
:
Download
V.A.M.P. v3.10 MOS
:
Download