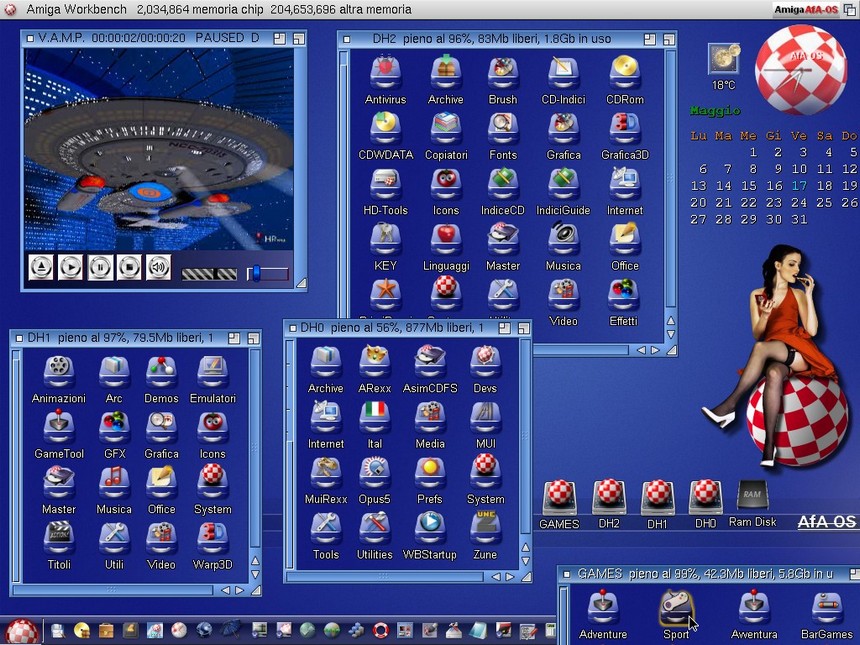 WinUAE 4.10.1 versione Stable
, Nuova versione che aggiunge qualità, potenza e velocit.
Anche in questa versione sono stati fixati vecchi e nuovi bug, e aggiunte nuove funzioni e aggiornamenti che potete leggere nella recensione sottostante fatta dallo stesso Toni Wilen.
WinUAE 4.10.1 Stable
:
Download
WinUAE 4.10.0 bugs fixed:
Chipset emulation updates and bug fixes.
Interlace filter mode saved invalid config in certain situations, causing crash when loaded. Also added validation to config loader that detects similar config errors.
GDI mode RTG hardware cursor leaved garbage when it was in top/left corner of screen and it was not fully disabled when Amiga was reset.
Serial port Ring Indicator signal fixed. If both printer and serial port was enabled, printer status was invalid.
Older bugs fixed:
Input device's Input panel custom configuration was lost if config was loaded and saved when custom configured input device was not connected.
Game Ports panel custom input configuration was not automatically remapped to original input device if order or number of input devices changed.
Game Ports panel "Default" game controller type didn't fully switch to CD32 pad mode when CD32 hardware was configured.
FM801 PCI sound card didn't work in Voodoo 3 + Mediator configuration.
PCI bridgeboard crash when accessing non-existing board's IO/RAM space.
Exclusive fullscreen Direct 3D 11 mode + Fullscreen GUI Misc panel option ticked and entering GUI: GUI window was not positioned correctly.
Video recording after loading statefile recorded one empty and one corrupted frame when recording was started.
New features/updates:
Added continuous screenshot mode to GUI. When ticked, screenshot is taken automatically every frame.
Disabled move left/right joystick autoswitching mode. It was too easy to do it accidentally. Only buttons are supported.
Clear Harddrives panel list when loading hardware-only config.
Taking screenshot when DF0: is enabled but empty and CD drive is enabled but not empty: select CD image name. (Previously CD was ignored