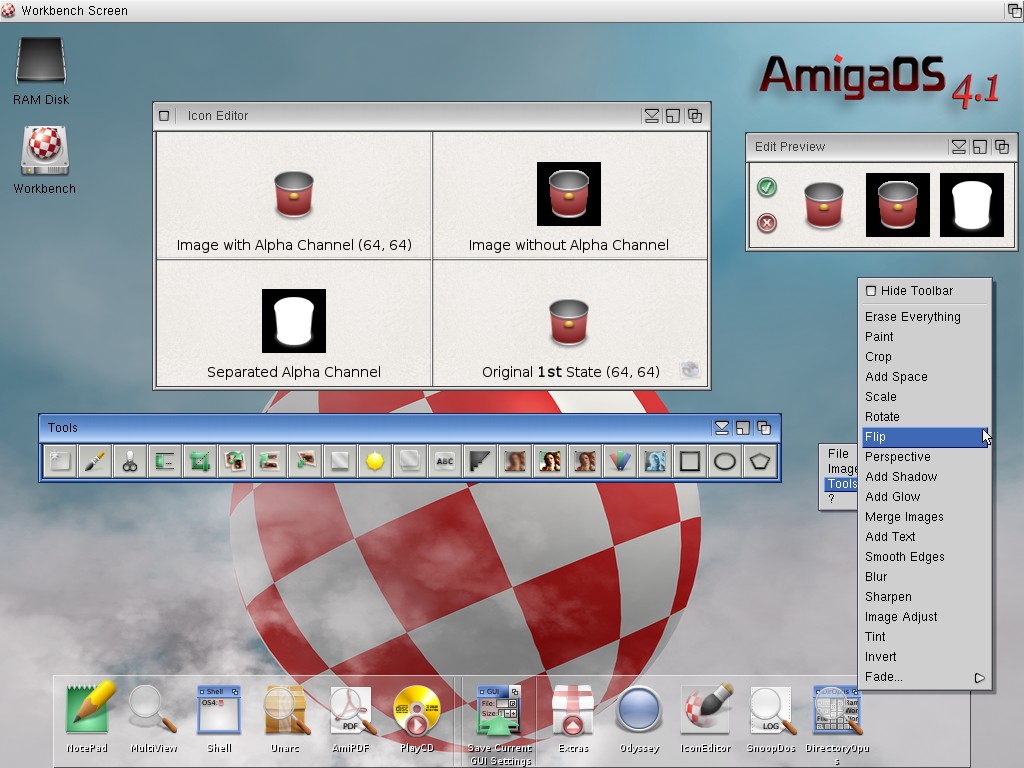 Icon Editor
: Nuova versione dell'ottimo Editore di Icone a 32bit realizzato con Hollywood 7.0 per OS 4.1, le mie icone di AfA One le ho realizzate con questo Editore.
Icon Editor v2.0
:
Download
Novità di questa versione:
- ARexx options have been added.
- A new tool (Perspective Distortion) has been added (suggested by Raziel).
- A 2nd State can now be added to single state images (suggested by Raziel).
- Fixed some bugs.
Requisiti:
In addition to having AISS installed on your system, you also need to have Stephan Rupprecht's "CopyIcon" (available from OS4 Depot) and the png.iconmodule (png_im.lha from OS4 Depot).
Caratteristiche:
- Separating Alpha-Channels
- Basic Painting (of both image and alpha channel)
- Cropping (decreasing margins)
- Adding Space (increasing margins)
- Scaling
- Rotating
- Flipping
- Shadow Effect
- Glow Effect
- Merging Two Images Together
- Adding Text
- Blurring
- Adjusting Gamma, Contrast, Brightness, Saturation, and Hue
- Tinting
- Image and Alpha-Channel Inverting
- Box Fade
- Shape Fade
- Converting PDFs into Icons