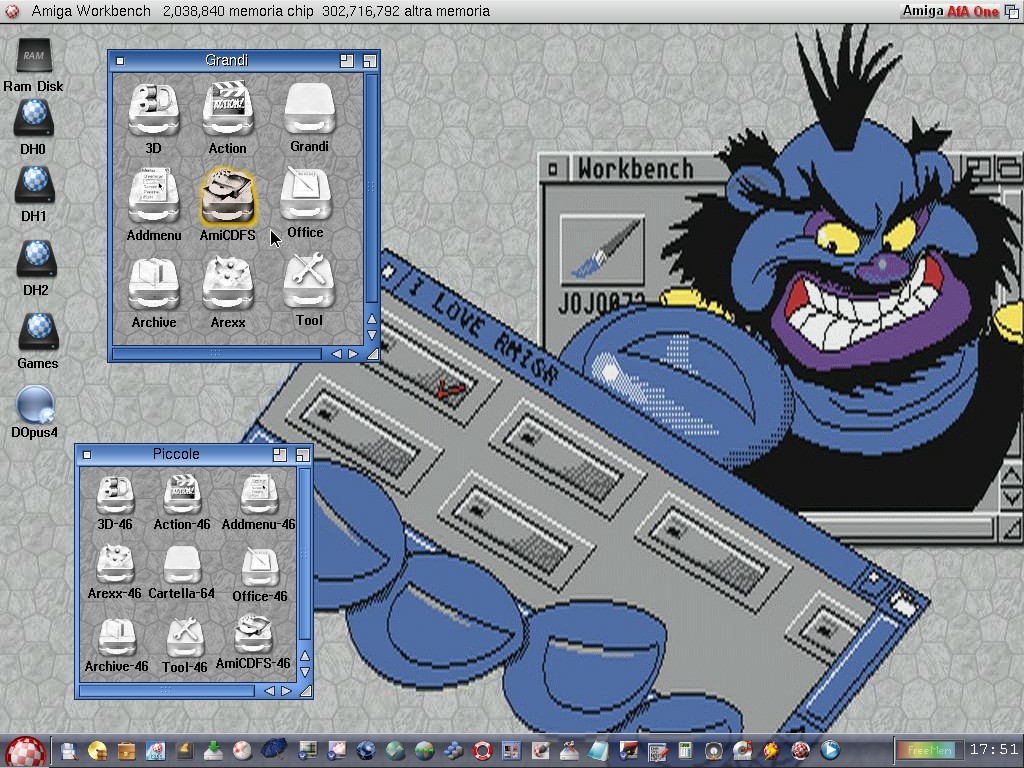 WinUAE:
Nuova Beta che corregge ed aggiunge nuove funzioni al miglior emulatore Amiga.
WinUAE v4.3.0 Beta 3:
Download
WinUAE v4.3.0 64Bit Beta 3:
Download
UAE CPU Tester:
Download
Novità della Beta 2
:
- 68060 PCR FPU disabled bit was not set when 68060 model didn't have FPU (b1).
- PCMCIA slot (if card configured) was not enabled at reset. Small change to attribute from image file: extra attribute data must be at least 512 bytes (b1).
- CALLM disassembler support
- FSAVE/FRESTORE and PSAVE/PRESTORE (if 020/030) generate privilege violation exception (if run in user mode) even if FPU/MMU is not installed.
- When editing Display panel width/height boxes, don't validate the value immediately to prevent useless "must be at least" messages in the log window/error log.
- List font selection removed, may come back if fix for some side-effects is found.
- GUI scaling partially rewritten yet again. Now uses ReactOS/Wine CreateDialogIndirectParam() reimplementation with some customization which enables resize code to find out exactly which elements are part of GUI, final screen coordinates, types etc. Remaining high DPI related glitches should be fixed.
- GUI panel change redraw flicker is gone.
- Fixed double free and buffer overflow in GUI code (b1)
- Copper COPJMP cycle sequence order was wrong, first cycle does not need free cycle, second cycle requires free cycle, logic analyzer rechecked. (vAmiga test case)
- Using SPRxPOs to move DMA mode sprite horizontally towards right very little so that "both" sprites still have overlapping pixels: old sprite was still drawn fully. (vAmiga test case)
Novità della Beta 3
:
- Subpixel emulation + borderblank: sprite end was 1 hires pixel before bitplane end, leaving 1 hires pixel gap in right border.
- On the fly chipset change support improved. (More OCS/ECS/AGA custom registers differences supported)
- ECS Denise + Subpixel emulation mode + Superhires Display panel setting + not Superhires mode: do not enable ECS Superhires (max 4 colors) emulation mode.
- GUI corruption in some theme modes fixed (b2).