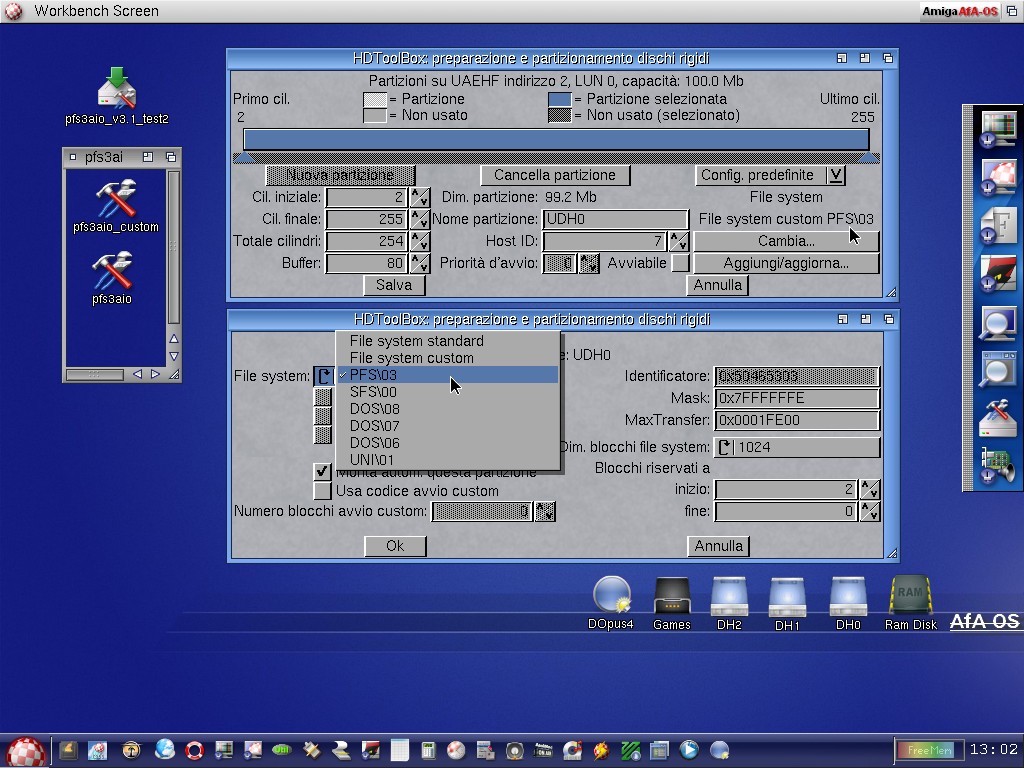 PFS3AIO 3.1 Test #2
: PFS3 All-In-One, famoso Filesystem liberamente scaricabile ora sviluppato da Toni Wilen (autore di WinUAE), questa è una versione test, allego citazione del bravo Toni:
- TD64 support check false negative fixed, it rejected many TD64 capable HD controllers. (Unsigned vs signed comparison..)
- Execute access mode test (TD64/NSD/DS) every time removable volume is inserted and also when formatting.
- Removed Direct SCSI scsi_Actual validation after read or write operation. Apparently not all SCSI controllers update it properly. Was added in 3.0.
- Fixed out of bounds buffer read when writing file to disk that does not fill last disk block completely. Generally harmless but can cause MuGuardianAngel hits and in worst case can cause accesses that cross end of RAM. (Original PFS3 bug/optimization)
- Always execute TD_MOTOR off after idle delay period. Previous pfs3aio versions only executed it if partition was located in removable media. Some HD controllers (At least Blizzard 2060) uses TD_MOTOR off to switch off activity led.
- OS 3.1.4 SCSIDIRECT option used SUPERFLOPPY drive total block count calculation/geometry mode even when SUPERFLOPPY was not set.
- Set default stack back to original 4000 (from old AROS too large value of 6000). Because system default stack is 4000, previously new stack was always allocated, wasting 6k of RAM.
(All previously discussed "small ram mode" changes temporarily removed, they may be back after 3.1 is out)
PFS3AIO 3.1 Test #2
:
Download